Fitness for One and All Home Page
Additional Books and eBooks by the Director
Overcoming Back Pain:
A Mind-Body Solution
Second Edition
Booklet and eBooklet By Gary F. Zeolla,
the Director of Fitness for One and All

Available Formats
Paperback format: 48 pages (6" x 9" pages). $6.75. Order from the publisher via their Web site Lulu Publishing.
Acrobat Reader® eBook: 1,071 KB. $1.35. Purchase and download from Lulu Publishing.
Kindle Reading Device eBook: 79 KB. $1.50. Order and download from Amazon.
MobiPocket eBook: 128 KB. $1.35. Order and download from the publisher via their Web site: MobiPocket.
---
Readers
Download the free Acrobat Reader®
Purchase the Kindle Wireless Reading Device
Download the free MobiPocket Reader
---
Description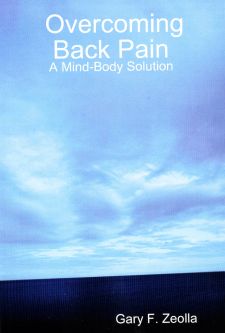 I was a national champion powerlifter in college. In the 123 pound weight class, I was able to squat and deadlift over 400 pounds. But I had to cease competing due to low back pain that developed in the fall of 1982. For the next thirteen years the pain or the fear of it severely limited what physical activities I could engage in, and I couldn't lift more than twenty pounds without experiencing pain.
Then the pain worsened in the spring of 1994 to the point where I was crippled by it for the next six years. I couldn't even lift more than two pounds due to the pain. I also had to spend the bulk of my day laying flat on my back. During those years of crippling low back pain, I tried just about every traditional and alternative treatment that is recommended for back pain. But nothing worked.
However, I finally found complete relief in the spring of 2000. And in the seven years since that time the pain has not returned in any significant degree, and I am now living my life back pain free. In fact, I started competing in powerlifting again. And once again, I am squatting and deadlifting over 400 pounds, only now competing at 114s. I am now a top-ranked master powerlifter, holding 27 records set in three different powerlifting federations.
This booklet describes the traditional and alternative back pain treatments I tried and what finally worked. So if the reader is suffering from low back pain, be assured there is a solution. I am living proof of that.
Table of Contents
Preface – 5
Part One: Beginnings of Back Pain – 7
Part Two: Various Treatments – 15
Part Three: The Solution – 23
Part Four: Steps to Recovery – 31
Part Five: Powerlifting Again – 39
Conclusion/ Bibliography – 43
Appendix One: Additional Books by the Author – 45
Appendix Two: Web Sites and Newsletters by the Author – 47

The above preview was posted on this Web site June 1, 2001.
It was updated for the second edition March 5, 2007.
Additional Books and eBooks by the Director
Alphabetical List of Pages
Contact Information

Fitness for One and All Home Page
www.FitnessforOneandAll.com