Fitness for One and All Home Page
Books and eBooks by the Director
---
Setting Up a Home Gym
Pictures - Part One
By Gary Zeolla
Below are pictures of my home gym. I know most of these pics are a little dark, but click on any picture for a larger image; those are easier to see. See the article Setting Up a Home Gym for details on all of this equipment.
---
Three views of my gym. This is how it looks when I am not working out, with everything stored on or inside of the power rack. I now have even more equipment, but it still all fits within the power rack, so it is out of the way.
.
A close-up of view of a corner of my platform, showing the two layers of wood and top layer of matting.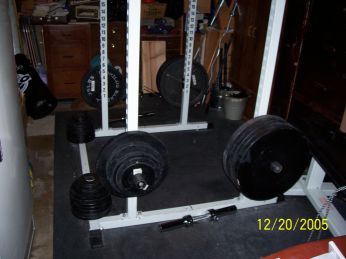 A view of the bottom half of my power rack with all of the weights stored on the six bar holders. I have a total of 780 pounds of weights. The dumbbell on the floor in front takes Olympic sized weights.
My workout space is so cramped I have to open up the door to a closet to get the safety bar out! There's the same problem on the other side as well.
My initial FID (flat/ incline/ decline) bench. It is multi-colored as I had to piece together two different benches. I only use this bench for incline and decline work. Note: This bench was replaced. See New FID Bench.
A couple of views of my flat bench. I place the balls of my feet on the base and my heals on the boards on the floor. The height from the top of the base and boards to the top of the bench is 16-1/2", within the legal height for a competitive bench.
See Setting Up a Home Gym: Pictures - Part Two for more pictures.
The above pictures were posted on this site December 21, 2005.
The captions were updated September 8, 2014.

Powerlifting and Strength Training


Powerlifting and Strength Training: Setting Up a Home Gym

Text Search

Alphabetical List of Pages

Contact Information

Fitness for One and All Home Page
Books and eBooks by the Director
---